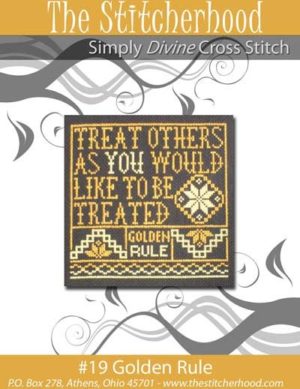 Mouse over image above to enlarge.
~ MYRA – 5 out of 5 stars – "This is a great pattern, very clear and easy to read. Well done and thanks!"
Golden Rule #19
$5.00
add to cart
This pretty Quaker cross stitch sampler acts as an ever important reminder, and has a wonderful lesson that says "Treat Others As You Would Like To Be Treated" and is surrounded by Quaker motifs. 
Stitch count is 86 high and 86 wide. Will measure approx. 6.25″ tall x 6.25″ wide if stitched on14 count fabric.
All stitches are cross stitch.
Model stitched on 14 count black Aida cross stitch fabric and is stitched in DMC floss: gold (#783) and pale yellow (#744). Feel free to substitute fabric & colors to your taste.
Copyright 2008, All Rights Reserved.
PLEASE NOTE:
"SHARING" OR SELLING OF THIS PATTERN, or any design by The Stitcherhood, in any way, for profit, or without, IS ILLEGAL.
UPLOADING this pattern, or any design by The Stitcherhood, to ANY website is illegal.
EACH PATTERN IS CODED to see who purchased it and can be traced in the event of copyright infringement.
This is a PDF pattern, available to download instantly upon payment.
       Mouse over image above to enlarge.
~ MYRA – 5 out of 5 stars – "This is a great pattern, very clear and easy to read. Well done and thanks!"
Top sale all days
Related products