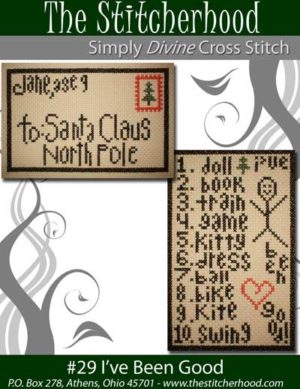 Mouse over image above to enlarge.
~  BETTY – 5 out of 5 stars – I absolutely love this pattern. I was surprised how quickly it stitched up. Thank you."
I've Been Good #29
$5.00
add to cart
I've Been Good. This primitive cross stitch pattern has 2 designs in one. One design is a letter to "Santa Claus" in the North Pole, and says "Jane, age 9" (you can put the name of your own little one instead). It has a Christmas tree "stamp". One design is her letter to Santa's and says "1. doll, 2. book, 3. train, 4. game, 5. kitty, 6. dress, 7. ball, 8. bike, 9. kite and 10. swing. It has an adorable smiling stick figure as well as a tiny tree and red heart. It says "I've Been Good".
Stitch count for both is 78 High and 48 Wide. Will measure approx. 5.50″ tall x 3.50″ wide if stitched on14 count fabric.
All stitches are cross stitch.
Model stitched on 14 count tan/beige Aida cross stitch fabric and is stitched in DMC floss: black (#310), green (#520) and red (#309). Feel free to substitute fabric & colors to your taste.
Copyright 2009, All Rights Reserved.
PLEASE NOTE:
"SHARING" OR SELLING OF THIS PATTERN, or any design by The Stitcherhood, in any way, for profit, or without, IS ILLEGAL.
UPLOADING this pattern, or any design by The Stitcherhood, to ANY website is illegal.
EACH PATTERN IS CODED to see who purchased it and can be traced in the event of copyright infringement.
This is a PDF pattern, available to download instantly upon payment.
For search results, alternative – Ive Been Good
Mouse over image above to enlarge.
~  BETTY – 5 out of 5 stars – I absolutely love this pattern. I was surprised how quickly it stitched up. Thank you."