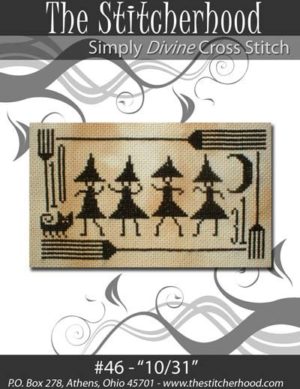 Mouse over image above to enlarge.
~  HELENA – 5 out of 5 stars – "Bought the material and thread- getting ready to start stitching. Love the design."
~  ANONYMOUS – 5 out of 5 stars
10-31 #46
$5.00
add to cart
10/31. This primitive cross stitch design shows 4 witches dancing under a moon with a black cat. On either side it says 10 and 31 and surrounded by a funky border of brooms, which some witches fly on and others use to sweep away negativity. So primitive!
Stitch count is 60 high and 100 wide. Will measure approx. 4.50″ tall x 7.25″ wide if stitched on14 count fabric.
All stitches are cross stitch.
Model stitched on 14 count tea dyed or tan/beige Aida cross stitch fabric and is stitched in DMC floss: black (#310). Feel free to substitute fabric & colors to your taste.
Copyright 2009, All Rights Reserved.
PLEASE NOTE:
"SHARING" OR SELLING OF THIS PATTERN, or any design by The Stitcherhood, in any way, for profit, or without, IS ILLEGAL.
UPLOADING this pattern, or any design by The Stitcherhood, to ANY website is illegal.
EACH PATTERN IS CODED to see who purchased it and can be traced in the event of copyright infringement.
This is a PDF pattern, available to download instantly upon payment, it is not a physical pattern. A link to a free program to open PDF's is in our FAQs page if needed. If you prefer the paper version, there is a list of shops that carry our designs also in the FAQs page.
       Mouse over image above to enlarge.
~  HELENA – 5 out of 5 stars – "Bought the material and thread- getting ready to start stitching. Love the design."
~  ANONYMOUS – 5 out of 5 stars